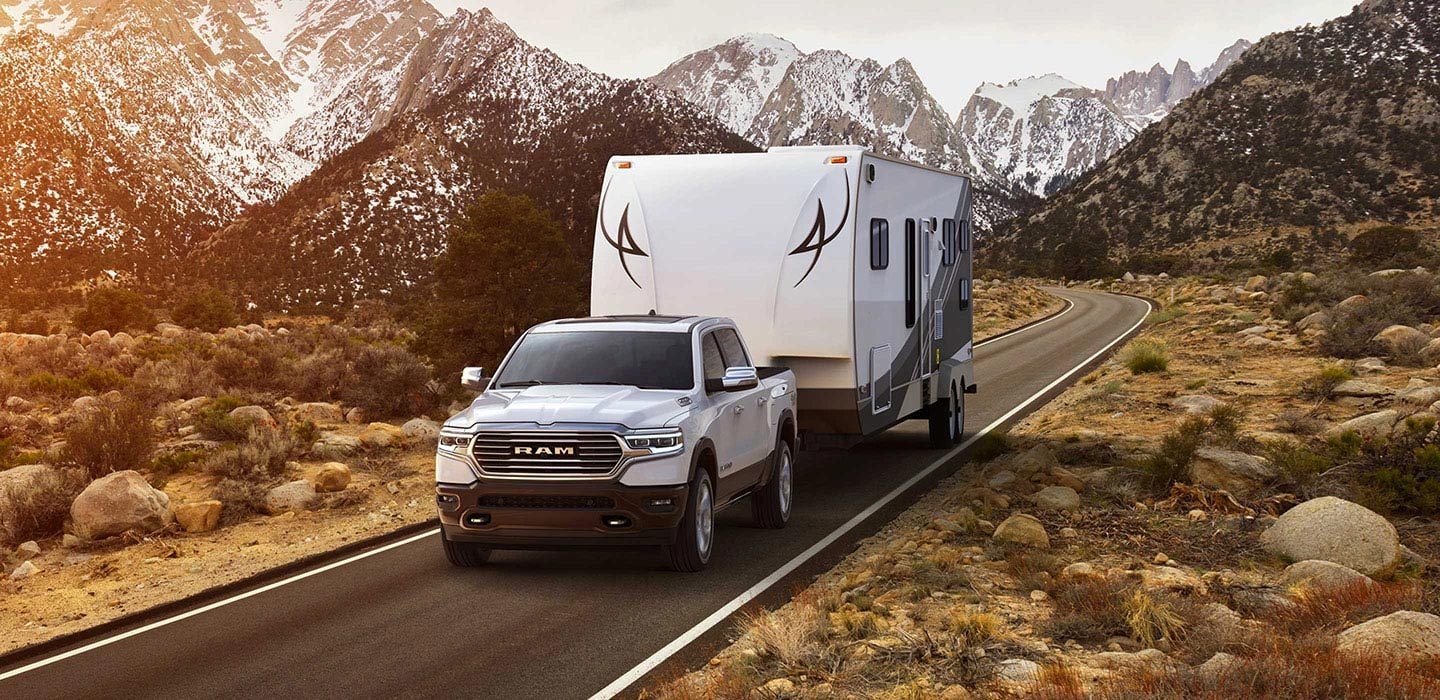 One of the best things about new RAM trucks, and one of the things we're asked about most often at Hall Chrysler Dodge Jeep® RAM Chesapeake, is their towing capacity. With the 2019 RAM 1500 starting to arrive at RAM dealerships, this is as good a time as any to take a look at the basics of towing with a RAM truck.
Truck Weight Ratings
Capacities and weight ratings on the 2019 RAM 1500 depend on several factors. The driveline, powertrain, cab and box configuration, and tow package all play their part. Broadly speaking, payloads (what you can throw in your truck bed) range from 1,180 to 2,320 pounds, while towing capacity ranges from 6,640 to 12,750 pounds. Your RAM dealer will help you find the configuration that best fits your needs in everyday use.
If you're trying to figure out your RAM truck's towing capacity, check the VIN plate on your driver's side door. Besides the VIN, many key weights and capacities, including axle weights (GAWR), gross vehicle weight (GVWR) and gross combined weight (GCWR), will be listed there.
Trailer Weight Ratings
Like your new RAM truck, your trailer has a VIN plate with information like tire and rim sizes, recommended tire pressure, the trailer's make and model, and a VIN. Besides tire pressure, which is just as important for your trailer as it is for your RAM truck, the key number we're looking for here is going to be labeled either GVWR or GTWR (Gross Trailer Weight Rating).
Loading Your Trailer
Why do you need the GTWR? Simply put, overloading your trailer can damage it just the same as going past your truck's GCWR can damage everything from your hitch to your engine and transmission. Don't overload. And remember that how you load is as important as how much. You want the weight evenly distributed to ensure stable driving and safe cornering. You also need to make sure you've properly secured the items you're towing so nothing gets lost in transit.
New to towing? Your RAM dealer serving Norfolk can help you make sense of everything, and the RAM trucks website has even more information. Visit Hall Chrysler Dodge Jeep RAM Chesapeake at 3353 Western Branch Blvd., for all your RAM truck needs.